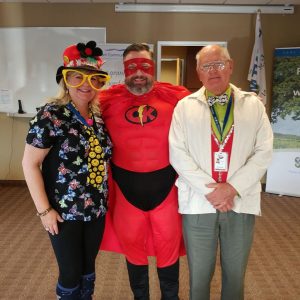 Once again, Random Act of Kindness Day was a huge success!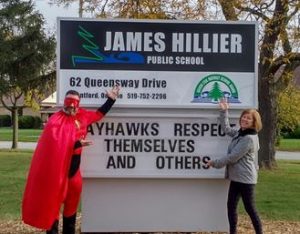 James Hillier School enjoyed a Random Act of Kindness Day assembly with a special visit from Captain Kindness, followed by many different projects initiated throughout the school to celebrate RAK Day.
Through student lead discussion, the expression of "Throw Kindness Like Confetti" came up, and the idea of the individualized hands to represent each student in our class, throwing confetti pieces with RAK intentions on them (all students in our hall – grade 6-8 contributed pieces) was born.  It literally snowballed into this idea and the students planned it really well.  THANK YOU for all your support and leadership in helping us get this project off the ground!  Warmly, Tasha Clement
On November 3rd, teams, individual volunteers, dignitaries from Brantford, Brant County, Six Nations and Mississauga's of the New Credit, and of course, Captain Kindness, joined together at Brant Mutual Insurance building to kick off the start of what was an amazing day.
The Brant Community Foundation has hosted RAK Day for 8 years and each year, more and more people become involved, and bring their own original ideas to the day.  Whether it's raking leaves for someone in need, visiting retirement homes and hospitals, handing out apples, pens and treats, or putting quarters into shopping carts, this day is about spreading kindness and  encouraging others to pay it forward.
The Brant Community Foundation Youth Advisory Committee worked hard at making treat packages to distribute to other students, and planned a variety of RAK day activities in their high schools.
To view the Brantford Expositor article, please visit the following link: www.brantfordexpositor.ca/2017/11/03/acts-of-kindness-spread-goodwill-far-and-wide
A simple act of caring creates and endless ripple….
For more information on Random Act of Kindness Day, please call the office at (519) 756-2499.