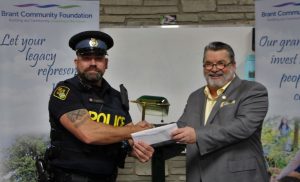 Constable Ken Johnston receives a grant cheque for the Safety Patrol Leadership Camp from David Bailey, Chair of the Brant Community Foundation
On December 13th the Brant Community Foundation celebrated our annual grant presentation, handing out over $320,000 in cheques to various organizations throughout our communities.
Grant cheques were distributed amongst 6 different sectors including Social Services, Education, Youth, Arts and Culture, Environment and Seniors.
The following organizations received grants:
Arnold Anderson
BCI Alumni
Big Brothers Big Sisters
Boys and Girls Club of Brantford
Brant Animal Aid Foundation
Brant Community Healthcare Foundation
Brant County Singers
Brant Historical Society
Brant Taletellers Inc.
Brant United Way
Brantford Arts Block
Brantford Music Club
Brantford Police Service
Brantford School of Instrumental Music
Brantford Symphony Orchestra
Brantford Welcome In
Brantwood Community Services
Canadian Military Heritage Museum
Canadian National Institution for the Blind
Child Hunger Brantford
Children's Safety Village
City of Brantford – Splash Pad Project
Community Christmas Toy and Hamper Program
Community Resource & Employment Services
County of Brant-Brant County Community Policing
County of Brant-County of Brant Ontario Provincial
Crossing All Bridges Learning Centre
De dwa da dehs nye s Aboriginal Health Centre
Farringdon Independent Church
First Baptist Church
Five Oaks Christian Workers Centre
Freedom House International Church
Glenhyrst Art Gallery
Grand Erie District School Board-Kiwanis Field Committee
Grand River Chorus
Grand River Conservation Foundation
Grand River Council on Aging
Grand Valley Education Society
Kids Can Fly
Lansdowne Children's Centre Foundation
Muslim Association of Brantford
Navy League of Canada, Brantford Branch
Nova Vita Domestic Violence Prevention Services
Ontario Lung Association
Organized Kaos Life and Trade
Paris Museum and Archives
Paris Parks Foundation-Paris Youth Softball Association
Paris Port Dover Pipe Band
Paris Presbyterian Church
Pregnancy & Resource Centre
Royal Canadian Air Cadets Squadron
Royal Canadian Army Cadets #2659
RPLACES Addictions Peer Support
Salvation Army Food Bank
Six Nations Arts Council
St Andrew's United Church-Soup for the Soul Program
Strong Start Charitable Organization
Thank-A-Vet Luncheon
The Grand River Chorus
Victim Services of Brant
Why Not City Missions
Wilfrid Laurier University
Woodland Cultural Centre
We would like to thank the Grand River Conservation Foundation for donating the Apps' Mill Nature Centre as our event location.  The centre is truly a gem in our community!  For more information on Apps Mill Nature Centre, please visit their website
For more information on our grants program, please email Pat Duern at pduern@brantcommunityfoundation.ca, or contact the office at 519-756-2499.
Our Mission: To attract and manage permanent funds for donors of all means, and provide grants to charitable organizations in Brantford and Brant County.