Brant Community Foundation grants support a significant number of organizations and agencies in our community.  This month we are pleased to spotlight Freedom House.
Freedom House… a group of ordinary people who believe that kindness can transform a city.
Since the opening of Freedom House in 2003, the organization has taken on many initiatives to help the community in as many ways as possible, including providing food and affordable housing for local residents, family, youth and university student services.  They also provide counselling, life and leadership skills, and are heavily involved in events throughout the downtown core.

The Kindness Centre – Changing our city by good into good!
With the help of a $50,000 Capacity Building Grant from the City of Brantford, The Kindness Centre re-opened on January 27th in the downtown Market Square Mall.  The centre offers free assistance to low income families for their basic everyday needs, including various baby items, household items, as well as a pantry food cupboard with non-perishable food items.
The centre is open to the general public and also functions as a thrift store, as well as an artisans' corner featuring pottery by local artists, photography and other creations.
Donations and volunteers are always needed and welcome!
Freedom House Frosty Fest 2018
A great time was had by all at the 9th Annual Frosty Fest!  Frosty Fest has become one of Brantford's favorite annual events drawing several thousand people during Ontario's Family Day weekend in February.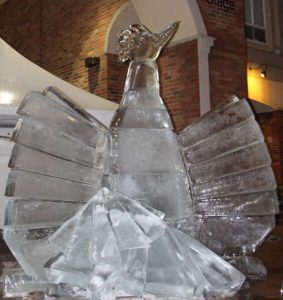 This year the crowd enjoyed Professional Ice Carving, Midway Rides, Snow Slide, Horse Drawn Trolley Rides, everyone's favorite snow taffy, and so much more.
The event has been earmarked by the Freedom House Church, and is about bringing everyone together on Family Day weekend to enjoy the festival, share in memories, while bringing transformation to the city's core.
For more information on Frosty Fest, the Kindness Centre, and Freedom House, please visit their website.