Brant Community Foundation grants support a significant number of organizations and agencies in our community. The Foundation is pleased to support ongoing exhibitions and events through our community grants and is pleased to spotlight Earth Week 2018.
In December 2017, the Brant Community Foundation presented a grant to the Grand River Conservation Foundation in support of Earth Week 2018.
Annually, the GRCF Tree Coalition plants trees and natural restoration during earth week.  Since 2009, over 73, 000 trees have been planted with the help of industry partners and volunteers.
.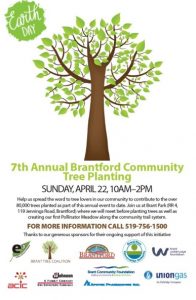 Bring the family out for the 7th Annual Brantford Tree Planting!
Sunday April 22 from 10 am – 2 pm
Bring your friends and family to join the Brant Tree Coalition to plant trees and create a pollinator meadow along the community trail system just outside of Brant Park.
Parking will be available at Brant Park. Entry is free, and gate staff will direct you to the meeting spot.
What to bring and wear: please arrive with your own work gloves and dressed for the weather in sturdy shoes or boots. Consider bringing water and snacks or a lunch.
Shovels are provided.
For more information on this event, please visit the website, or call 519-621-2761 (Toll free: 1-866-900-4722).
For more information on the Brant Community Foundation, please contact us at (519) 756-2499, or info@brantcf.ca.