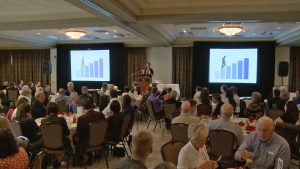 Citizens urged to 'make a difference'
Over 200 guests attended the 9th annual Community Leader's breakfast held at the Best Western Brantford Hotel and Conference Centre on June 20th.  James Kent, a well- known community member and retired judge, shared his philosophy of giving back to the community.
Over his 60 plus years in the community, he raised a family and enjoyed a very successful career.  However, he always listened to suggestions made by others.  That life-shaping advice, much of it made by Dick Waterous, included the suggestion of participating in community events and organizations.  This was advice that he took to heart.  He became involved in working with St Leonard's Society to establish its first halfway house in the city.  The establishment of the Rotary Classic Run was another accomplishment.  The Run has grown over the years and has raised more than $2.5 million that has gone to help children with special needs.
He pointed out that there are any number of organizations in the community that rely on volunteers since funding is always an issue in the non-profit sector.  Giving back can be time to help with a project or it can be in the form of a donation.
He had high praise for the Brant Community Foundation as a means of making a lasting difference in the community through its various permanently endowed funds.
Jim closed the event by saying "Make a donation to the Brant Community Foundation.  Make a difference in the community.  I rest my case".
For more information on the Brant Community Foundation, please contact the office at (519) 756-2499.