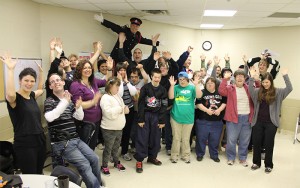 Every year, the Ontario government honours volunteers who give their precious time to charities and service clubs.  The awards are for continuous service starting at 5 years and going up in 5-year increments.  It was awe-inspiring to be in a room full of people sharing the common goal of giving back to their community.
The recipients of service awards for their dedication to the Brant Community Foundation are: Dean Braund, 10 years, Patricia Davies, 10 years and three youth volunteers Mikayla Castagna, Mobin Hakim, and Jayden Mitchell.  We are honoured to work with them and thank them for contributing to the success of the Foundation.
Each recipient received a pin recognizing the number of years of service and a certificate.  The certificate has a quote from DeAnn Hollis "The heart of a volunteer is never measured in size, but by the depth of the commitment to make a difference in the lives of others."
Thank-you to the hundreds of volunteers who make our community a better place to live, work, play and raise a family.