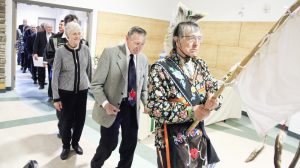 LIFETIME ACHIEVEMENT AWARDS – 2017
Mary Welsh, Geronimo Henry and Walter Gretzky were honoured as the 2017 recipients of the Lifetime Achievement Awards for Outstanding Volunteerism.
These awards recognize exceptional service to the community by a volunteer.  According to Derek Bond, chair of the awards committee, the recipients have enriched the lives of so many and on so many levels.
Mary Welsh has been a tireless volunteer and champion of civic causes in both Brantford and Brant County.  Among her many achievements she is the founder of the Brant Waterways Foundation, the Brant Animal Aid Foundation and the Brantford Collegiate Institute Foundation.
Geronimo Henry, a resident of Six Nations, spent 10 years at the Mohawk Institute Residential School where the abuse he suffered led to alcoholism and estrangement from his family.   His healing journey led him to found and manage Lost Generations.  He spends his time educating the public about the residential school system, leads tours of the Mohawk Institute and is involved in truth and reconciliation projects.
Walter Gretzky, known as 'Canada's No. 1 Hockey Dad', has been a tireless ambassador for Brantford.  He has been a spokesperson for CNIB and the Heart and Stroke Foundation.  Charities that benefit children and youth are especially important to him.  He can often be found at community events where he never misses an opportunity to meet and greet others and point out what a special community Brantford is.
For more information click on  Brant News